By now, we all know the importance of having a solid, running website for your business. However, if the website isn't generating traffic, it's pretty much redundant, sadly. You might detest the pestering traffic on the road, but you have got to love it on your website! A simple way to understanding this is, traffic is to website what air is to humans, i.e., breathes life into it!
You must have established familiarity with the term 'web traffic'. Let's quickly go over what web traffic is and why it's imperative for a website.
Web traffic is a count of the number of users who view your website. It also monitors the number of pages a user clicks on your site and the time period they spend on your website. These numbers lend an idea of your website's popularity.
Okay, fair enough. But why is this absolutely essential for a website? Here's why.
Creates Awareness
This is imperative for any business, especially new websites. Web traffic means users are becoming aware of your business and would probably prefer it to others as well, enhancing your circle of potential customers.
Generates Revenue
Web traffic basically propels your sales funnel. As explained in (enter link to '8 Reasons Why Your Business Needs SEO'). Web traffic means more people clicking on your website, increasing the chances of these visitors turning into paying customers, consequently generating revenue for your business.
Creates Long term customers
Increased web traffic means a greater number of people signing up for your newsletter or dropping their email addresses or phone number. Even if they leave the website without making a purchase or after making a sale, this gives your business a chance to convert them into customers through re-marketing as well as maintaining a relationship with them through targeted emails and messages.
In light of these benefits, it's easy to fathom why web traffic is essential for all websites. This leads us to the most imperative question: How do you acquire this Web traffic for your website? Or better yet, how do you quickly generate traffic for a new website?
Investment in websites has seen a massive rise due to increased customer reliability on search engines, smartphones, and social media: the influx of a digital era. As a result, businesses find digital marketing a cost-effective and reliable way to boost sales. For this reason, businesses are actively creating optimised websites that would generate traffic and convert more and more visitors into leads. With the birth of so many new websites, it's important for businesses to generate traffic on them as well.
As a general rule, it's always smart to try lots of different but effective ways to promote a new website. To render this job simpler, we have devised a list of 5 Quick tips to get traffic for your new website.
1. Use Valuable Keywords
Keywords are an integral part of Search engine optimisation (SEO). Since you are working on a new website, it's important that you do a lot of keyword research and it'll be easier to add the most searched ones too. Some quick ways to gain a little insight on this is to simply type certain keywords in Google and see what kind of results come up. Keyword research entails you understand the volume of keywords used. For example, you need to understand whether 'SEO services' is more commonly used than 'SEO expert' and incorporate that into your website so you can rank higher on search engines and customers can find you more easily.
So how do you do that?
A simple and quick way to get an idea about keyword popularity is through Google Trends. Type in a term and gauge its popularity over time.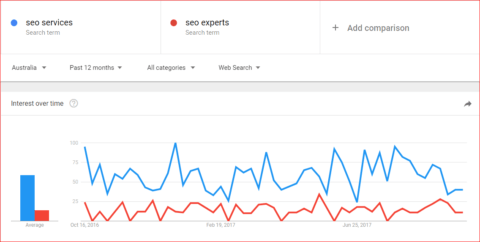 This snap from Google trends allows us to draw a comparison of the popularity of 'SEO services' with 'SEO experts' in Australia over the past year. It lends us a fair idea that employing SEO service on our website would be more searched for, generating traffic for your website.
Another quick way to identify the most effective keywords is through Google Adwords.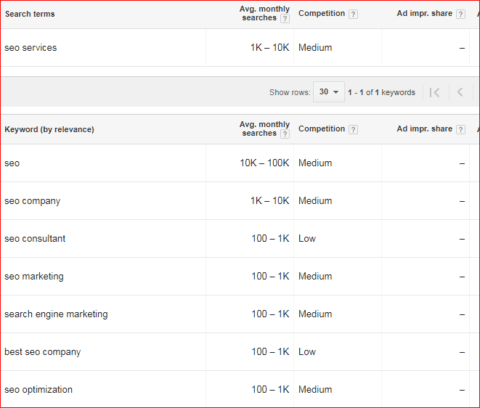 If the website offers SEO services, Google Adwords tells you which related keywords garner the most searches, leading to greater traffic. Including these keywords in your website content will earn you a higher rank and consequently generate traffic for your new website. As shown above, using 'SEO' and 'SEO Company' will be more effective than using 'SEO consultant'.
Another quick way you can gain keyword insight is through the related searches on Google. Google produces these from other popular searches of users.

Upon searching 'SEO services Melbourne', you can see people also search for 'SEO agency Melbourne' and could incorporate this to gain traffic.
2. Pay per Click Advertising
Since your website is new, it's important for you to create awareness about it. A simple and effective way to do this is through paid online advertising, also known as pay per click advertising (PPC). In PPC, you pay Google to list ads for your website. When a user clicks on your ad, you pay the cost per click. This cost per click is established by the value of the keyword of your interest in the market.
Let's explore some of the benefits of this as a means to generate traffic:
Since your website is new, it needs a solid place where it is marketed at the top and right corners of search engine listings.
You pay only for the traffic directed on your website.
An optimised PPC campaign can generate a significant amount of traffic for your website.
These ads appear on Google and other search engines as well as on websites that your customers (gauged by keywords) visit, rendering this method effective and targeted.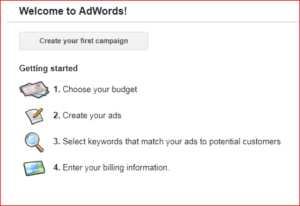 You can produce a campaign to create awareness for your new website as shown in the snap above through Google Adwords.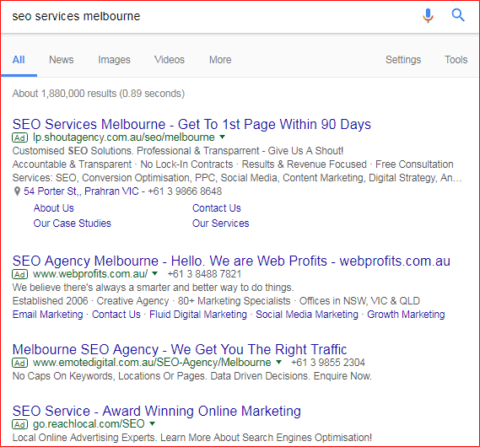 The image above shows a list of PPC ads that work by the keyword 'SEO services Melbourne'. Upon searching this term, visitors will be displayed these ads, increasing the chances of a user clicking on one of these sites to check them out. The business will only pay 'cost per click' once the user visits their website.
As a result, it is a cost-effective way to create awareness for a new website and generate traffic.
3. Email Marketing
This traditional method still stands as an effective tool in spreading awareness and generating traffic for your new website. Let us prove that with some statistics. According to a survey, email marketing is 40 times more effective in acquiring new clientele than social media pages like Facebook and Twitter! Moreover, email has the highest conversation rate in comparison to social media, a whopping 66% to be exact. In light of this, you sure don't want to abandon this tip to generate traffic for your new website, do you?
Any email that goes out by your business ID should hold your website link at the bottom, regardless of whether required or not, kind of like a signature. Since the contacts your mail is going out to are already working in the domain of your business, there is a great chance that these receivers will click on the link to check out your new site, generating traffic.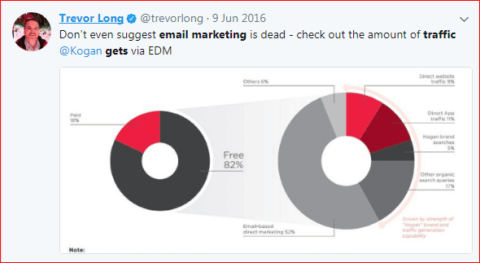 Moreover, you can even send promotional emails to prospective clients who operate in your industry. This promotional email campaign should have a beguiling subject so that the receiver is forced to open it and see your website link. Let's take a quick example.
If you're an SEO service provider, content like 'Drive more traffic to your site', linked to your website will be much more responsive than a simple 'visit our website' with a link.
Now let's talk about the most effective time of the day to send these emails in an attempt to generate traffic. Contrary to popular belief, Forbes says that there exists a wide discrepancy between when users open their mails and when they reply, in this case, click on the link provided. Statistics show that on weekdays, people will respond to less than 40% of emails they receive while on weekends, the response rate increase to 45%.

The image above lends some insight into email response rates by the common public.
While the response rate largely depends on your content and the industry in which you operate, as a general rule, you can gain more traffic on your website by sending targeted emails early morning (roughly between 6am to 7 am) or post-work (after 8pm).
Email marketing is a credible and cost-effective tool ignored by many people. It can establish the credibility of your business and acquire web traffic for your new website immediately.
4. Make Your Website Mobile Friendly
In today's day and age, this has to be one of the most (if not THE most) important steps that a website owner can take. Now that your website is new in the market, you want customers to know that it is mobile friendly as well from the very beginning.
As entrepreneurs, we understand that selling a product, in this case selling your site, requires you to stay abreast of user trends and demands. We cannot reiterate enough that this is a digital era, with profound mobile usage. Did you know? Mobile browsing currently occupies half of the world's web traffic, with a 30% jump in mobile usage every year! So where does a huge chunk of your desired traffic lay? Mobiles!

And it would certainly pay if it is!
Mobile-friendly websites can get you insane traffic! A report revealed how mobile searches comprised 58% of all search query volumes! In 2017, it has been established that around half of all web traffic comes from mobile devices as opposed to desktops, due to the ever-increasing craze of smartphones. Moreover, it's interesting to note that some search engines even allow mobile-friendly sites a higher ranking when a user operates from a mobile device to carry out a search. This will inevitably create more awareness and consequently traffic for your site!
Mobile-friendly sites are much more useful for new sites to acquire traffic. Why? Your new website can generate more traffic than an established one if you have a mobile-friendly site but they don't! Bag the highest amount of traffic by making your website mobile-friendly.
5. Learn From Your Web Traffic
This step is essential, especially for a new website. Following the adage 'you learn from your mistakes', a finger on the pulse approach will allow you to segregate what works and what doesn't to direct your time, energy, and cost towards effective promotional tools that are proactively generating traffic for your website.
So what are those golden numbers that you should keep a lookout for?
Number of Visitors
This one goes without saying. It will allow you to gauge the effectiveness of your strategies like PPC, email marketing as well as SEO. Without this number, you wouldn't be able to monitor where you currently stand and what more you need to do since your website is new and you're probably inexperienced in this matter.
Length of Stay
This gives a count of the time users spent on your website. This is incredibly important for a new website because it needs to be aware early on what might be hampering leads. If users stay on your website for an average of 30 seconds, chances are, your strategies like email marketing, PPC and keywords are doing their job well but your content is lacklustre or perhaps you lack a mobile-friendly site. Now you have a clear idea of what you need to work on to improve traffic and leads.
Source of Traffic
Identifying the source of your traffic will allow you to assess the effectiveness of all your strategies. As a general rule, a new website should allow a couple of months (4-6 months) for the strategies to work (especially SEO) and for the traffic to start pouring in. If a source remains bleak in its efforts even after this time frame, it may be time to adopt a different approach to generate traffic.

Now we will explore how to excavate these wildly important statistics that allow you to make amends right from the beginning. We have two words for you: SEO Audit!
We're sure you must have heard of this term, but for greater clarity, let's look at it in detail.
SEO Audit is a process that allows you to assess your website's search engine compatibility and visibility. How does this assessment allow you to triple your audience?
It allows you to see what works for your website to continue doing that to acquire traffic
It allows you to remedy problems that are in the way of your web traffic
It allows you to polish specific facets of your website that you weren't aware needed to be mended
So what all does SEO audit entail?
Competitive Analysis
SEO Audit will allow you to assess your competition. Now, this is good for you because your website is new so you can adopt a strategy to curtail competitors from the start. It answers queries like how competitors generate traffic for certain keywords which can prove to be supremely beneficial for a newly established site like yours.

The snap above shows a complete competitive analysis for Amazon. This would allow Amazon to conduct a side by side comparison and see the gap between their website and that of competitors. It highlights their weaknesses and shows where they should expend most of their efforts.
Crawling and Indexing
Crawling is basically the way your website is read by Google. Indexing is the process of incorporating web pages into Google's search engine.
This helps to ensure that your sitemap meets all the proper requirements and it is not blocked from Google search engines, consequently obstructing traffic.

Enter your website in Google Console to ensure it is properly crawled and indexed, as shown in the snap above.
Accessibility
Make sure accessibility to your website isn't being hampered, which would, in turn, impede web traffic.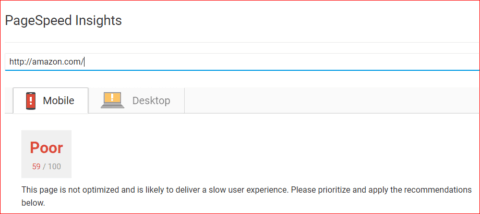 Google Page Speed Insights shows you the user-friendliness of your website. Since users are more likely to abandon pages that take longer to load, new websites cannot afford issues with accessibility.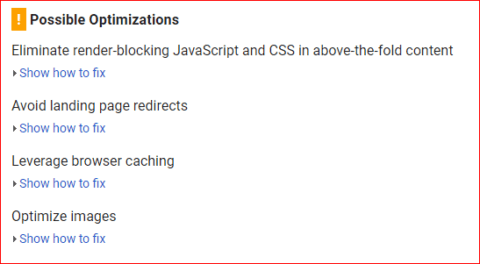 SEO Audit also provides you with remedial actions to ensure a smooth flow of traffic to your website.
Keyword Analysis
SEO Audit also allows you to monitor which keywords can acquire traffic and how this traffic converts into customers?
Conclusion
If you're trying to generate traffic for your new website, try these effective methods that lend you sufficient insight and knowledge about what works and what doesn't. Cost-effective and useful, these tips will not only increase your web traffic but consequently generate greater sales revenue for your business as well!